Ocean Falls Museum
---

There are few places on this earth that have equaled the unique, and large impact, as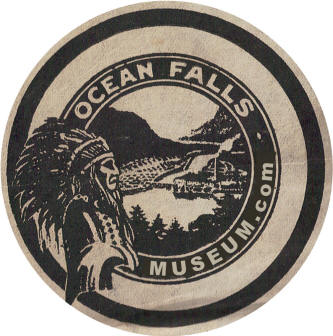 Ocean Falls has had on so many lives.
In the hundred or so years that Ocean Falls has been around, there are countless lives that have been affected by a place and a people. Some say a modern day ghost town. Yet, there are those who live there, who call it home. Others, have summer residences, that call it home. Still others who have not lived there for many years, that still call it home, at least in their heart.
Then there are those who have visited, and wish they could call it home, and then those who have only heard of Ocean Falls, and have not seen, but have fallen in love with her.
For all those that Love Ocean Falls, this museum is offering to display a photo history of each family that lived, or lives there.
Also if you have had occasion to pass through, such as a Company Official, Ships Captain or Crew, Pilot of one of the Airlines, Family visitor, Tourist, or what have you, your contribution is welcome as well.
If you would like to be a part of this historic offer please contact us and we will endeavor to digitize all photos in order to display them here, giving credit to each family.
Giving the world a glimpse into the heart and soul of a town so loved.

---
Historic - Outsiders Point Of View
The United Worker Paper
September 1951 Page 8

A Company Town - Residents Living in Perpetual Twilight
by Austin F. Cross

Ocean Falls, BC is a pulp and paper town clinging to the steep mountains, where the sun in some places doesn't rise till near noon, where there are no motor cars and the people live on a slant like mountain goats. Except for the Mounted Police, a few fishermen, a stray Indian, and a few straggling itinerants the whole place is run by Pacific Mills. President of the whole works is that old Ottawa boy Paul Emerson Cooper.

Here they have tennis courts hanging from cliffs. Here your life is going up steps or down steps, when you are not walking their narrow planked car-less roads. The baseball diamond is away up in the valley and to get there you are likely to pant all the way unless you are a young man.

This is a town that lives in a sort of twilight outdoors and has nighttime at noonday indoors. The tall, steep banks of this magnificent and at times gloomy fiord do not darken the town on their own account, but gather low-hung clouds that throw a pall over mountain and town alike.

Indoors, every place I visited today from the CIBC to the mill offices were burning the lights. The people were seemingly hardly aware that normally, people do not work under electric by day,

Here thousands of people live well, very well indeed. Except truly they are all dressed up with no place to go. They dress splendidly, for there is no such thing as a poor man here. There are no roads out of here. But when the taxi was running to the Farm Road one mile and seven eights then there was a steady stream of kids who saved their money and took taxi ride for the round trip.

There is no railway. Even planes can not get in here, and you either charter a private machine, of small proportions, with no toilet facilities and slow speed, which you step into along the water front or else you get on the steamer, go north overnight, then fly from Prince Rupert.

But one thing they do excel in is swimming. The company has built a fine swimming pool and because of that Ocean Falls has produced more championship swimmers, more Empire games natators, more potential Olympic contestants than any other city in Canada per capita. Indeed, you probably could pick all your 1952 swimmers to go to Helsinki for the Olympics from Ocean Falls and do all right.

I am sitting facing a fog swathed fjord watching the rain come down as it inevitably does more than 200 days a year. I am looking out from the fifth floor of the super modern Martin Inn. Here workers can room for as little as $21 a month, that normally would cost $4.00 per day. The cafeteria and coffee shop work almost round the clock to accommodate the three shift a day, seven day a week workers.

Ocean Falls is a city of beautiful homes, magnificent public buildings and empty jail cells.

-- Ottawa Journal –
Retrieved from Archive microfiche, by David Leverton

Ocean Falls Museum Is Looking For
Family Photos And Movies
To display Here on this site.
Each Contribution Will Be Displayed On A Page Named For That Family.
Please Don't Delay Contact Us Today